--Per Intelliseek's BlogPulse, blogger's complaint the third most linked-to post in the blogosphere on August 18, 2005--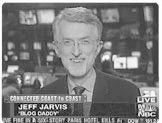 The Mother Of All Online Brand Threats
In the days before the blogosphere, Jeff Jarvis might have been just another dissatisfied customer with a broken product. But today, his widely circulated criticism has triggered bloggers and online commenters to publicly complain about the service they've received from Dell's technical support. This in from MediaPost. In fact, MediaPost calls it on the spot saying Jeff Jarvis may have officially started a negative advertising campaign for Dell, because Jeff Jarvis didn't just complain to customer service people, Jarvis instead published on his blog an open letter to Dell Chairman Michael Dell and Chief Marketing Officer Michael George where he recounted his struggles with customer service and blasted the company therein. Talk about CEO blogging! (Now Dell, like Craig Newmark, knows how really close customer service people are to the CEO; fact is, they're getting closer.)

Dell's New Brand Threat: Blogs
Jeff Jarvis is surely Dell's new brand threat. But beyond just guru Jeff Jarvis, isn't Jeff just a premeditated figure for the average everyday consumer [Joe Bloggs] with a blog and an Internet connection? (There's lots of Jeff Jarvises out there with a blog and an Internet connection. Read: consumers generating media.) Jeff Jarvis is every other Dell customer, or for that matter, any other customer of any company who is having trouble with products or services (and not answered to in a speedy manner.) It's only a matter of time until more consumers get wind of "the Jeff Jarvis technique," and corporate problems online snowball.

Out With Customer Service Calls: In With Blogging?
Lessening in power are the use of letters to the editor to voice to the media and corporations the public's displeasure. Lessening in power are calls to customer service which end in empty wasteland voicemail boxes. Instead, powerful bloggers like Jarvis are blasting companies directly and it's becoming more clear, given Dell's response, that people are using the medium effectively (e.g. a blog post as an email with a cc: to the rest of the world).
Dell Gets Spoken To, Online




What are companies like Dell going to do about the Jeff Jarvises of the world going forward? Because soon the world will be full of Jeff Jarvises. Soon in every part of the globe, for every industry channel, for every product produced, there will be brand evangelizers and brand threats. As bloggers continue to share their positive and negative brand experiences virally, will corporations react before a blog post like Jeff Jarvis'? Or, only react after they've been attacked by a Jeff Jarvis? Will we see call centers truly manned with live people at the ready 24/7? (Network Solutions is a good example of a company that isn't always well-manned....oops...sorry just making "a Jeff Jarvis" here, folks.) Or, will companies react like Dell did?
Making "A Jeff Jarvis"
And don't for a minute think that this "Jeff Jarvis" thing is a one-time deal for the blogosphere. Jeff Jarvis set the standard. Jeff Jarvis made the mother of all online brand threats. The snowball effect for all industries and products hereafter online is yet to come. People: complaining is now as easy as a "cut and paste" into a blog template. (We're not advocating doing it, though.) But, PR and web teams: man your battle stations! Making a "Jeff Jarvis" is unfortunately going to become the next online fad. (We hope Jeff wanted to be remembered for this.) His BuzzMachine is at full-throttle.
technorati tags: Jeff Jarvis, Customer Service, PR Machine, Public Relations, Crisis Communications, Dell, Brand Threat, Buzz Machine